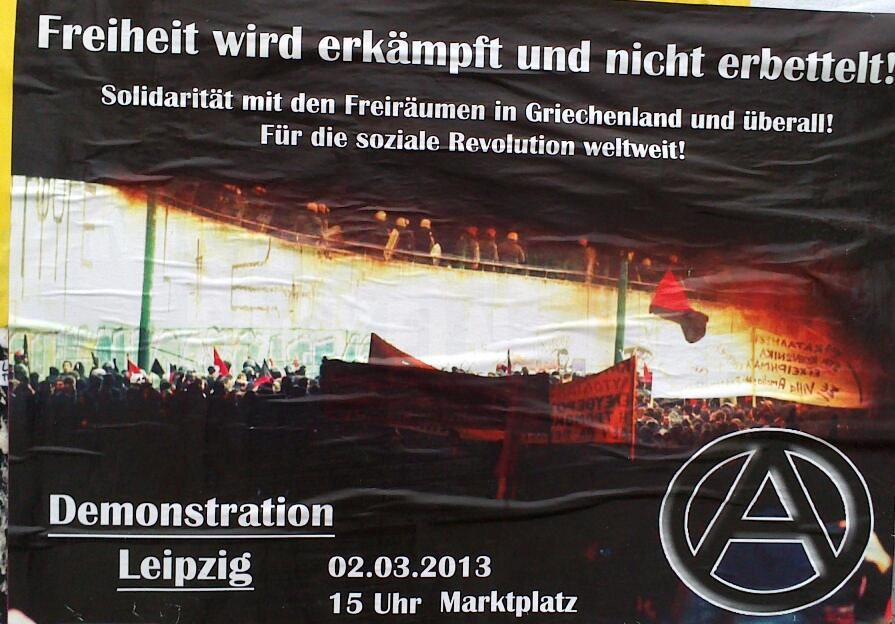 Die für den 2. März in Leipzig geplante Demonstration "Freiheit wird erkämpft" ist verboten worden. Aus diesem Grunde wird jetzt am Samstag zu einem dezentralen Aktionstag aufgerufen.
Im Aufruf hierzu heißt es:
"Um der Verbotsstrategie am Samstag auszuweichen und unsere Solidaritätsbekundungen trotzdem zu platzieren, rufen wir zu einem dezentralen Aktionstag im gesamten Leipziger Stadtgebiet auf! Lasst uns die Bullen als Dank für das Verbot doch einmal so richtig verrückt machen und es an allen Ecken und Enden der Stadt knallen. Dazu begrüßen wir jede Art der solidarischen Ausdrucksbekundung für die geräumten Häuser in Athen und überall, für die GenossInnen, die aufgrund ihres Engagements dafür in Knästen sitzen und gefoltert werden, für Freiräume und die Kämpfe darum."
Für ein Schwarzes 2013! Für die weltweite Solidarität!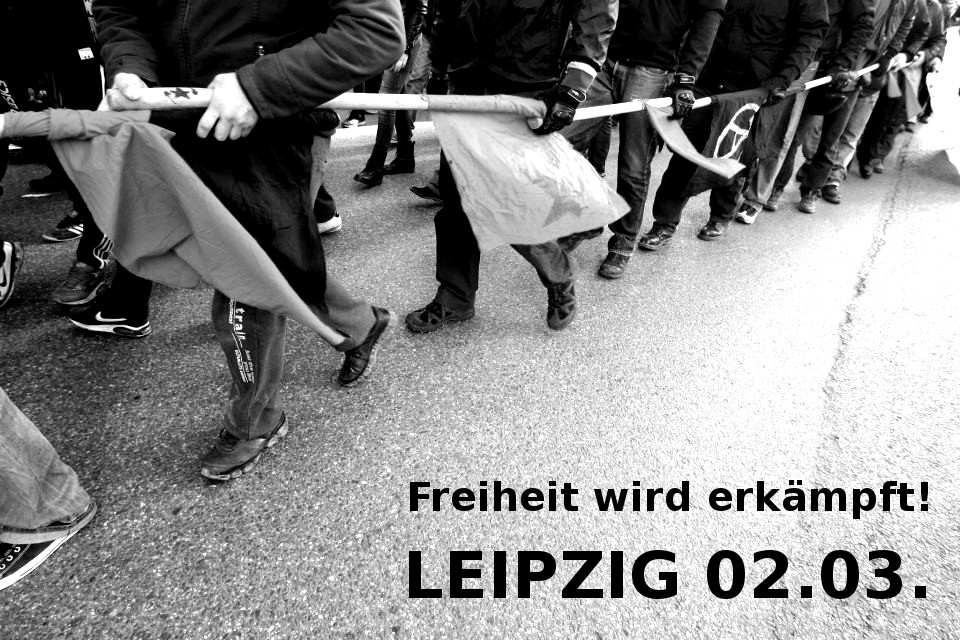 The unauthorized demonstration "Freedom is fought for" in Leipzig for the 2nd of March was banned. For this reason, a decentralized action day was called for Saturday instead of the planned demo.
Excerpt from the call:
"To evade the prohibition strategy on Saturday, and nonetheless find a place to express our solidarity, we call for a decentralized day of action across various districts of Leipzig! Let us show to the cops our appreciation for this ban by making them even crazier, popping out in every nook and cranny of the city. We thus welcome any kind of solidarity expression for the evicted squats in Athens and everywhere; for the comrades who sit in prisons or get tortured because of their commitment to the cause; for liberated spaces and the fights for them."
For a Black 2013! For worldwide solidarity!